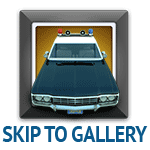 As early as 1932, it became apparent that there was a need to supplement the sheriffs and local police departments of the Bluegrass State with a State Police agency. However, it was not until February of 1948, that Kentucky became the 38th state to enact a State Police Act. Prior to that time, in 1914, a Commissioner of Motor Vehicles was appointed to administer and enforce motor vehicle and traffic laws. In 1918, that authority was transferred to the Kentucky State Tax Commission. In 1932, this mandate was transferred then to the Kentucky State Highway Commission where some civilian officials were deputized to pursue and enforce traffic law. Then in 1934, the Kentucky legislature created the Kentucky Active Militia to serve under the state Adjutant General. These 400 or so men were appointed under local officials and had full police powers to "suppress bank robbery, banditry, and to provide highway traffic safety". In 1936 the Division of Highway Patrol was created under the Department of Highways. This remained in place until 1948 when the Kentucky State Police was founded.

The KSP did not become "official" until July 1st of that same year. The new department inherited the men and equipment of its predecessor agency, the Kentucky Highway Patrol. Just 12 years earlier, that agency was formed with just 40 officers.

By the time it evolved into a full service police agency it had grown to 200 officers. Incredibly, the legislation allowed KSP officers to have full police powers of arrest anywhere in Kentucky except cities of the first five population classes (1000 residents or more). The only way KSP Officers could perform duties in those centers was to enter only by invitation of local officials or the governor. These restrictions continued until as late as 1976!

In the 1950's "Incognito squads" patrolled the highways in unmarked cars, checking for speeders and cracking down on overweight trucks. The 1960's saw KSP marked patrol vehicle's color changed from black to gray In 1974, the Department of Public Safety was abolished and the KSP moved into the auspices of the Kentucky Department of Justice as a bureau. It was around this time that KSP marked patrol cars went to a blue and white color scheme.

In 1980, the KSP absorbed the old division of Highway Enforcement (Vehicle Enforcement Section) and Water Safety. The KSP also took over Capitol Security from the Department of Finance (Facilities Security Section). The KSP saw further reorganization in 1982.

The 1980's also had more car color changes: Patrol cars changed color twice: first to white then back to Kentucky State Police Gray and Ford Mustang 5 Liters were purchased. In 1990, the KSP had 939 sworn officers, and as of late, that number has grown again to 1000.
License Plates of the Kentucky State Police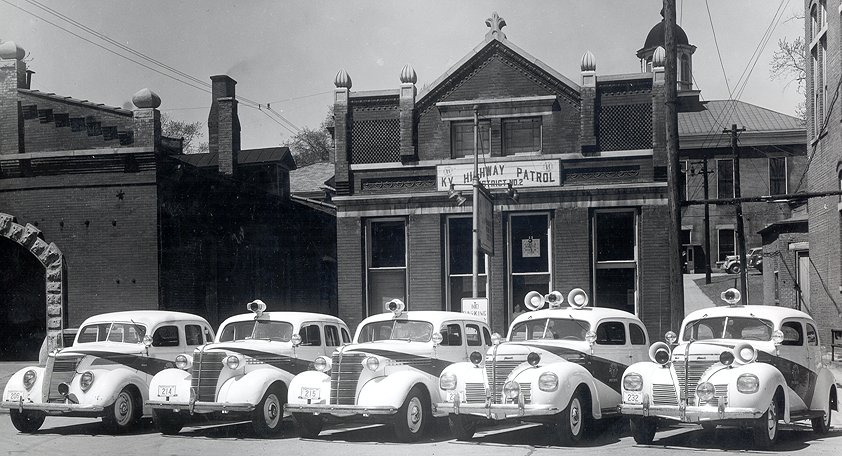 A LARGE DEBT OF THANKS GOES TO RETIRED KSP MEMBER WALTER CHISHOLM FOR THE SUPERB CLASSIC PERIOD PHOTOGRAPHS HE PROVIDED AND SEEN THOUGHOUT THIS PAGE

It is not certain what kind of license plates were used on vehicles involved in the enforcement of motoring laws in Kentucky from the creation of the Commissioner of Motor Vehicles in 1914 until the creation of the Kentucky Highway Patrol in 1936.
The earliest photo/record of Kentucky state highway traffic enforcement vehicles is the one seen above taken in 1937. A line-up of impressively appointed marked Kentucky Highway Patrol vehicles are seen outside Number 2 District Headquarters sporting dated Highway Department license plates in the 200 series.
There are currently no known surviving KHD license plates earlier than the 1937 ones as seen in the photo. The only other KHD license plates of record are seen below as dated 1942 versions. It can then be surmised that KHP vehicles between 1937 and 1948 utilized dated KHD license plates on the front and rear of the patrol vehcles until the switch to SP-prefixed state police license plates when the agency was founded that year.
The color and format of the KHD license plates during that time appear the same as passenger car plate issued. As a result, the following versions would likely have been issued:
1937: Embossed steel. Approx. 9 1/2"x 5 3/4". Dark blue over white. KENTUCKY- '37 over number up to 3 digits over HIGHWAY DEPT
1938: Embossed steel. Approx. 9 1/2"x 5 3/4". Dark green over white. KENTUCKY- '38 over number up to 3 digits over HIGHWAY DEPT
1939: Embossed steel. Approx. 9 1/2"x 5 3/4". White over dark green. KENTUCKY- '39 over number up to 3 digits over HIGHWAY DEPT
1940: Embossed steel. Approx. 9 1/2"x 5 3/4". Red over off-white. KENTUCKY- '40 over number up to 3 digits over HIGHWAY DEPT
1941: Embossed steel. Approx. 9 1/2"x 5 3/4". Black over silver. KENTUCKY- '41 over number up to 3 digits over HIGHWAY DEPT
1942: Embossed steel. Approx. 9 1/2"x 5 3/4". Silver over black. KENTUCKY- '42 over number up to 3 digits over HIGHWAY DEPT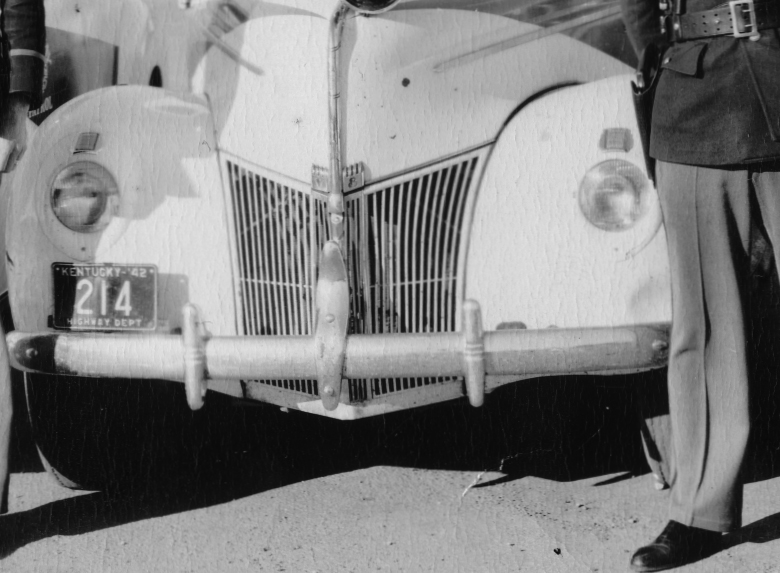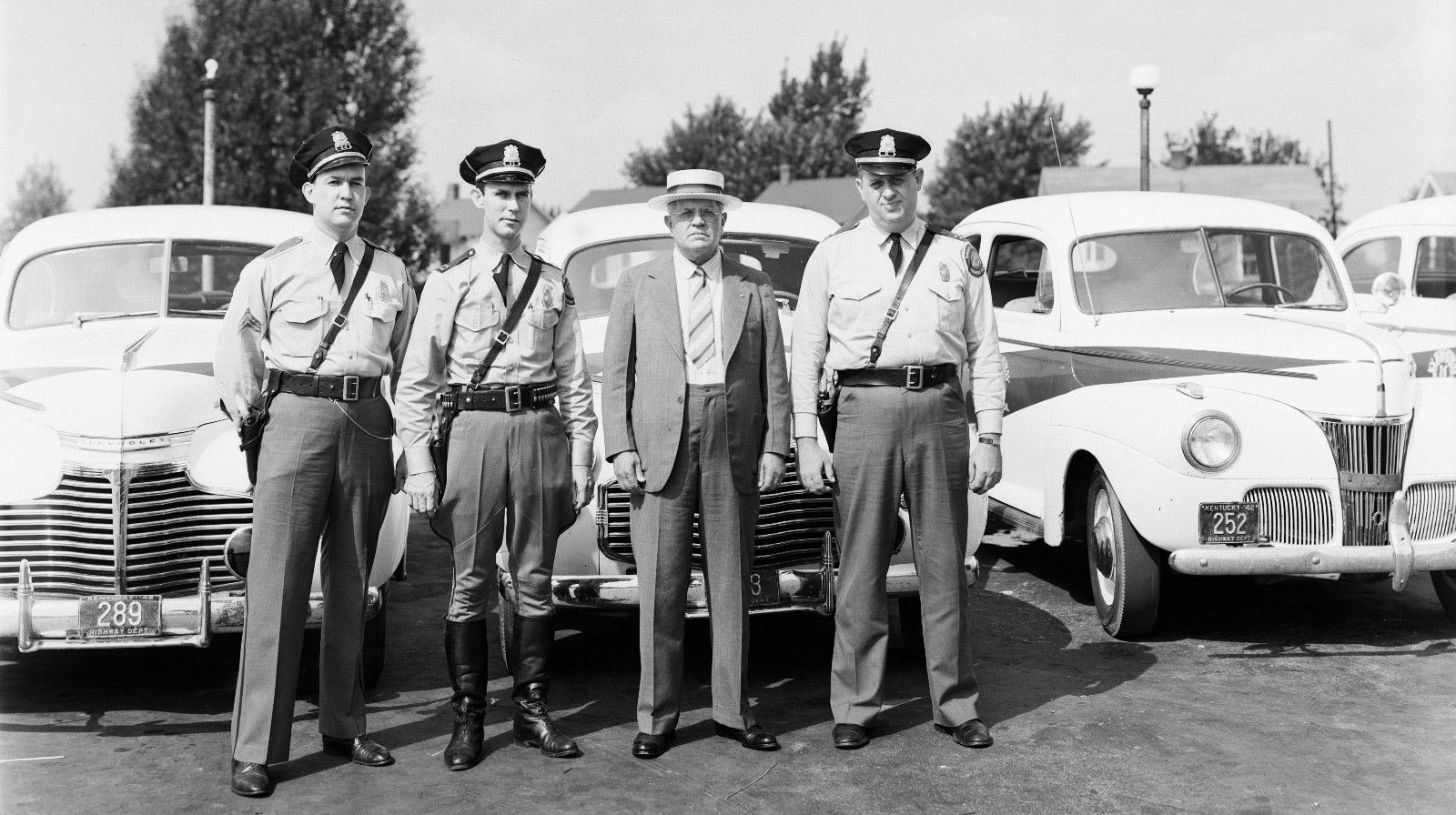 1943 saw the use of a windshield decal to validate the 1942 license plate. This was done in an effort to conserve metal for the War effort at that time.
1944: Embossed steel. Approx. 9 1/2"x 5 3/4". Medium yellow over black. KENTUCKY- '44 over number up to 3 digits over HIGHWAY DEPT
1945 saw the use of a windshield decal to validate the 1944 license plate. This was done in an effort to conserve metal for the War effort at that time.
1946: Embossed steel. Approx. 9 1/2"x 5 3/4". Silver over black. KENTUCKY- '46 over number up to 3 digits over HIGHWAY DEPT
1947: A black over red windshield decal was used to validate the 1946 license plate.
1948: Embossed aluminum. Approx. 9 1/2"x 5 3/4". Orange over aluminum. KENTUCKY- '48 over number up to 3 digits over HIGHWAY DEPT (no painted border)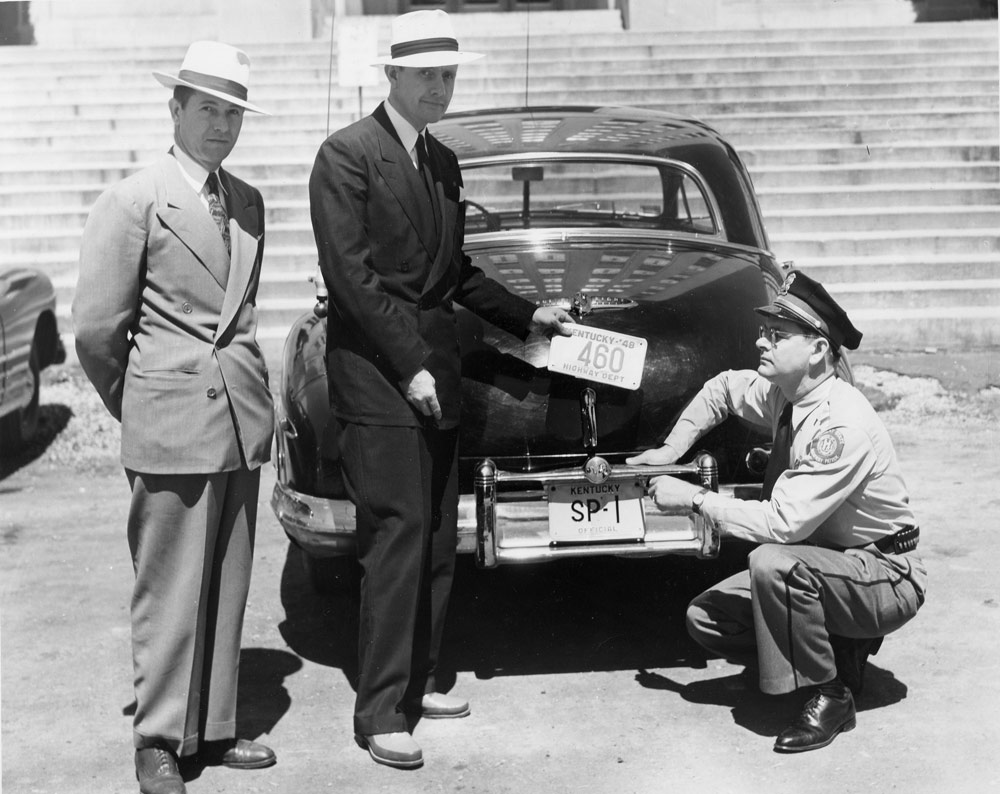 When the Kentucky State Police was officially formed in 1948, one of the rites of passage was the removal of the previous Highway Department license plates to be replaced by distinctive SP-prefixed plates for exclusive use by the KSP. The symbolic "switch-over" is seen in the fabulous historic photograph seen above which was taken on July 1 1948. It shows the KSP's first Commissioner, Guthrie Crowe (center) having the SP-1 license plate affixed to the back of his Buick by officer Joe Hall (right). It is unknown who the gentleman standing at the far left is, (likely a Highway Department official) so drop me a line if you can identify him. My thanks again to Walter Chisholm for this great photo.

As there are no known surving KSP license plates prior to the 1964 issue, it is merely guess work as to the size and color used on these earliest KSP plates.
The SP-1 license plate appears to be the same size as the Highway Department predecessor (9 1/2"x 5 3/4") and I assume it would also be made of embossed aluminum. The color combination is anyone's guess but likely to be black over yellow-orange or black over grey/aluminum. The state name is at the top spelled-out in full over a number up to 2 digits prefixed by the code SP and a dash over the word OFFICIAL.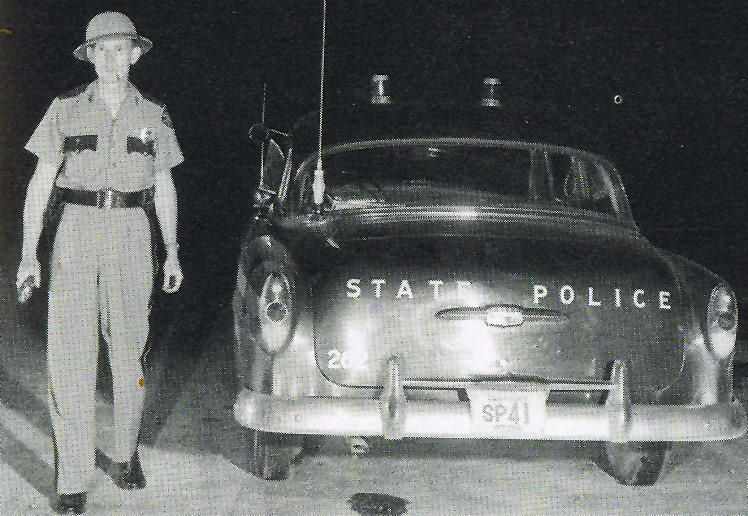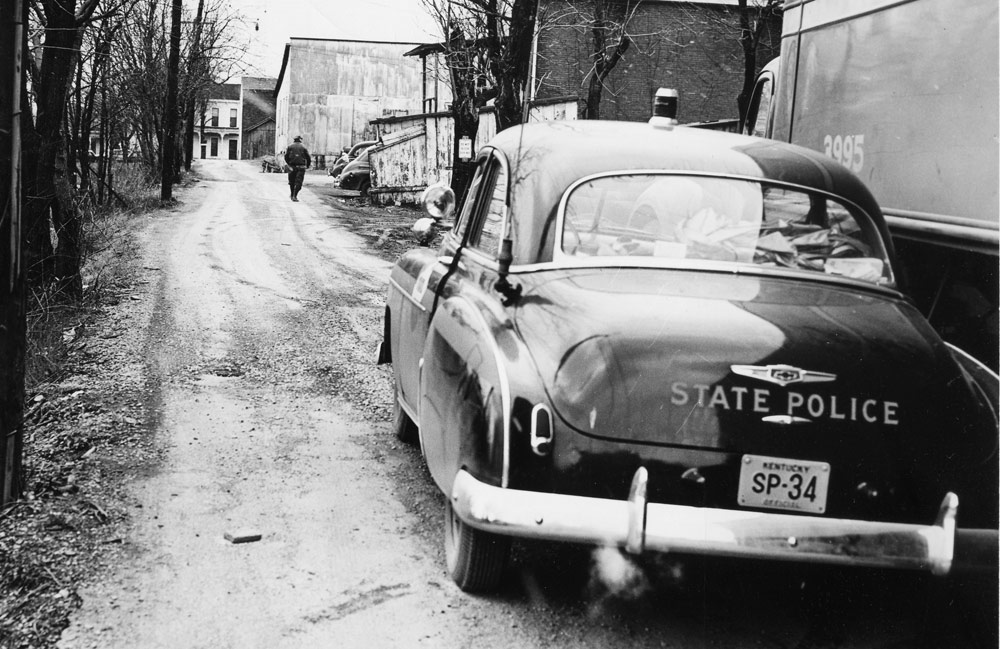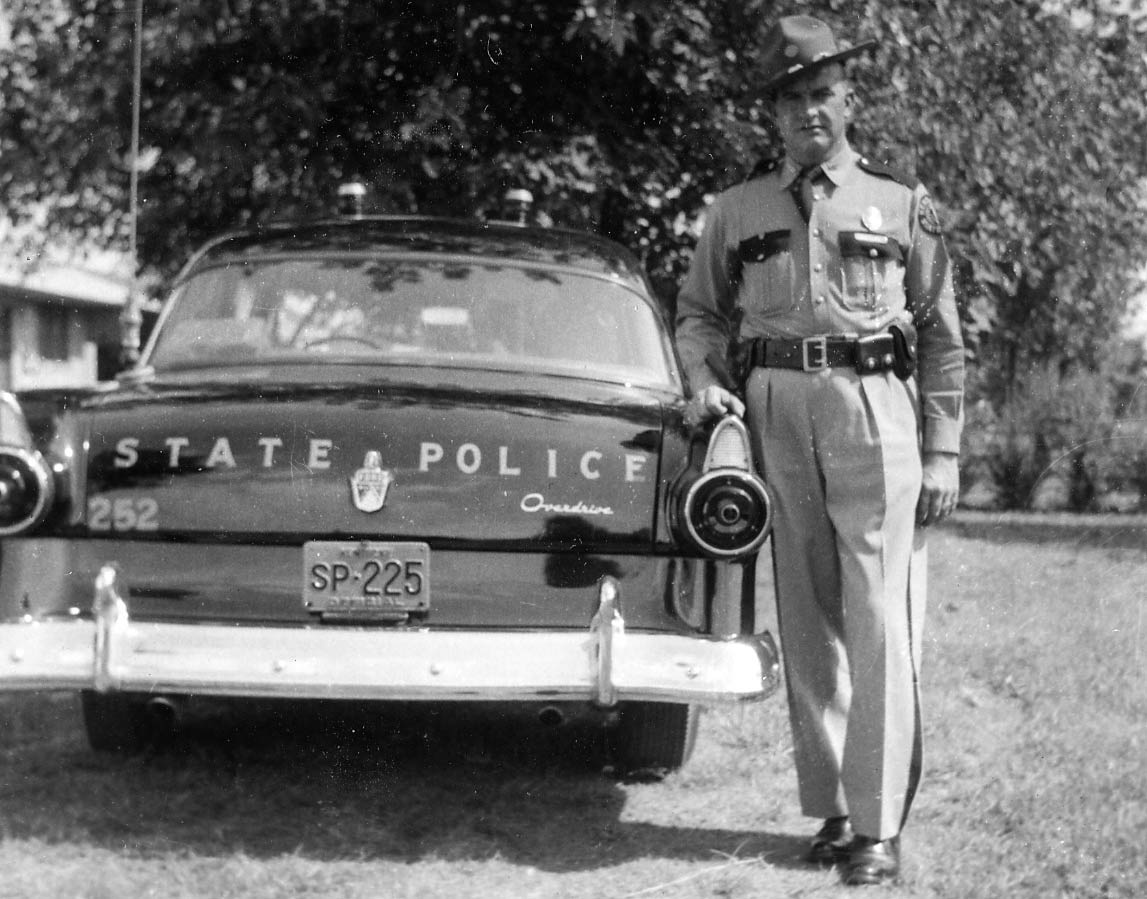 The photograph above shows Trooper Ray McCarty standing next to his KSP patrol car in 1955. If you look closely at the license plate, not only has the plate accommodated three numbers after the SP- prefix, but the word OFFICIAL embossed at the bottom appears to use wider dies than the previous issue. Again, the color combination can be anyone's guess, but the background color appears a shade or two darker than the trooper's uniform. Possibly black over grey.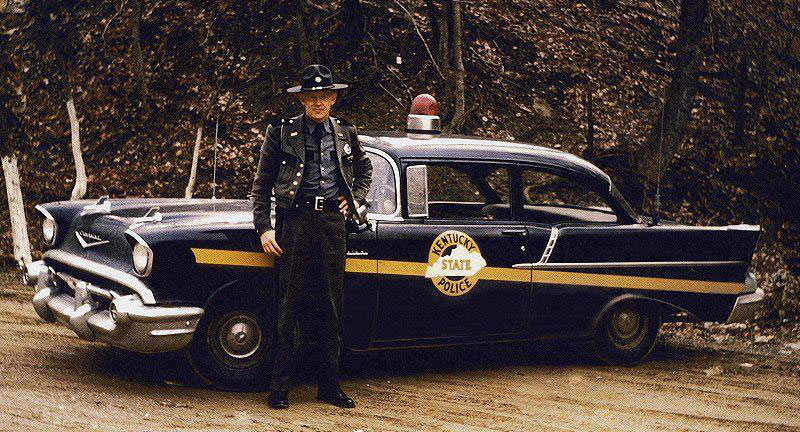 1956 was the year where all license plates in North America had to follow a format standard of 6"x 12" which put an end to irregular license plate sizes. It is unknown if KSP vehicles were re-plated to comply with this requirement or if they simply re-issued the same previous issues until they had no option but to make new ones. Aside from no surviving specimens of this era existing today, it seems that all photos I have come across depicting KSP vehicles of that time only show profiles and therefore no plates are visible. It appears that front license plates were not being used by the KSP during this time or ever since.
In the immediate years just prior to 1964, Kentucky license plates used a debossed border which was painted the same as the background of the plate. There is an example of such a debossed pre-1964 KSP license plate in black over yellow-orange and bearing the number 333, and now number 206 has been discovered as seen below. The plate was made of embossed steel and had KENTUCKY embossed at the top center of the plate.
STATE (over) POLICE was embossed to the left center of the plate followed by a dash and the numbers over the word OFFICIAL that was embossed at the bottom center. The plate was covered with a Flex-O-Lite coating consisting of finely-crushed glass beads to provide the plate with some retro-reflective properties.
This debossed border and die-type was used on other Kentucky license plates from 1955 until 1962, so it can be reasonably surmised that these KSP license plates were at least issued until 1962, but likely used for quite some time after that.
The embossed border on the steel base was introduced to other Kentucky license plates in 1963.
Existing record states that this type began for use by the KSP in 1964.
Early 1960's issue. Embossed steel.
Black over yellow orange.
Reflective Flex-O-Lite coating used.
Unknown when this base plate was retired, but likely before the 1975 base was released. Debossed border.
Circa 1964-1975 issue. Embossed steel.
Black over yellow orange.
Circa 1971-1975 issue. Experimental reflective sheeting placed over top the 1964 issue.
Some were made on unpainted blanks as well.

Reverse of plate showing sheeting crimped onto backside.

Circa 1970-1975 issue. Embossed steel and KSP prefix.

Circa 1974-1975 issue. Embossed steel.
Return to SP prefix to allow vehicle assignment number up to four digits.
Circa 1975 issue. Embossed aluminum.
Blue over reflective white. Made for Commissioner of KSP.
Possible one-off as this type has not been seen using other numbers.
Circa 1975 issue. Embossed aluminum.
Medium blue over reflective white.

(Courtesy Tony Aleria)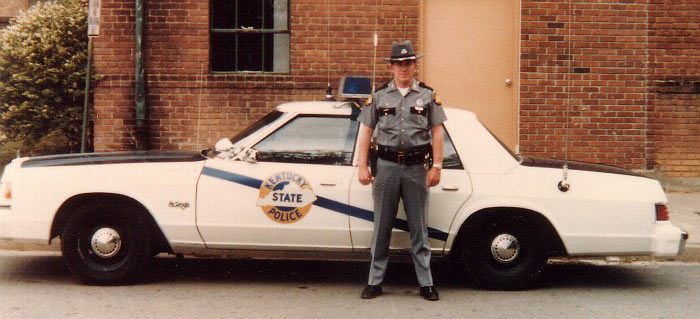 Around 1975, the 3M company manufactured attractive graphic license plates for the Kentucky State Police. They were made of embossed aluminum with only the assignment number and step-border being stamped. Silkscreened graphics were used for the state name, the word OFFICIAL on the bottom and for the door seal emblem placed to the left of the assignment number. These plates were run on marked KSP vehicles until about early 1980 when the agency went back to a plain steel base manufactured by the state. Only seen with assignment numbers in the three digits. Known as the "Blue Letter version" which referenced the color of the letters inside the circle of the emblem.
Circa 1975-1979 issue. Embossed aluminum.
Silkscreened graphics used for everything except the embossed assignment number.
Plates were manufactured by 3M.
This type has only been seen running three digit numbers and may have been discontinued to allow for fourth digit.

Courtesy of Michael Slepetz




Circa 1980-1983 issue. Embossed steel.
Dark blue over flat white.
Numbers begin with lead zeroes.
Circa 1980-1983 issue. Embossed steel.
Dark blue over flat white.
Glossier white background and no lead-zero.


In the early 1980's, the Kentucky State Police partnered with independent insurance companies throughout the state and developed a program to combat the growing number of auto thefts taking place. A special award program was developed which was similar to the ACE (Aggressive Criminal Enforcement) programs already spearheaded by agencies like the Ohio State Highway Patrol, the Louisiana State Police and the Arizona Department of Public Safety. It was a program that rewarded troopers for the highest recovered numbers of stolen motor vehicles for a given time frame. ACE awards for such diligent officers included the prestige of running special ACE license plates on their patrol vehicles. The highest performing ACE (Ace of ACE's) was bestowed the Blue Max Award (Ohio SHP and Louisiana SP). In Kentucky, the Ace of ACE's was known as the "Screaming Eagle". The Screaming Eagle ACE award program was only run in Kentucky for less than five years until the mid-1980's. The most prolific of the Screaming Eagle ACE's was Tpr. Joe M. Allen of Post 13 (Hazard). Tpr. (Detective) Allen won the award three years in a row. In 1982 alone, he recovered a total of 132 stolen vehicles resulting in 63 arrests for grand theft auto. As part of Tpr. Allen's reward from the IIAK for this impressive endeavor, he received an engraved plaque, and a $1500 all-expense paid vacation. He was also awarded the Screaming Eagle ACE award license plate which he affixed to the front of his patrol car.
Joe Allen was later promoted to Field Sergeant and his Screaming Eagle ACE license plate is now a proud segment of the writer's collection.
Early 1980's Screaming Eagle ACE issue. Flat painted steel.
Awarded to KSP trooper with highest recovery of stolen motor vehicles. Awarded to Tpr.Joe Allen of Post 13 (Hazard). 1982 recovery: 132 vehicles resulting in 63 arrests.


Around 1983, the Kentucky State Police re-introduced graphic license plates to its marked fleet. These plates were manufactured in Georgia using Georgia dies for the numbers. The plates were embossed aluminum with the border and four numerals painted dark blue over a reflective white background. The emblem of the KSP was situated to the left of the numerals. This issue became known as the "Gold letter version" to denote the color of the lettering within the circle of the emblem.
The plates were numbered with lead zeroes.
Circa 1983-1990's version. Known as Gold Letter Version. Manufactured using Georgia dies for the numerals.
Lead zeroes used for earlier types.

(Courtesy Jay Weinstein)

Late 1990's-2000's issue.
Painted border dropped for step-border.
Kentucky dies used for numerals.
Kentucky State Police Professional Association-
Conference souvenir plate.

2003 Souvenir plate for delegates of the Midwest Odometer and Title Fraud Enforcement Association Workshop/Conference which was held in Kentucky that year.

Personalized vanity plate for KSP retiree.



Motorcycle License Plates used by Kentucky State Police
The Kentucky Highway Patrol used motorcycles in their earliest years, but gradually phased them out by World War II.
The license plates used by KHP were regular motorcycle plates.
1938 Kentucky motorcycle license plate number 2296 was affixed to the rear of a KHP cycle from a period photograph.
No other samples are known.
Gallery